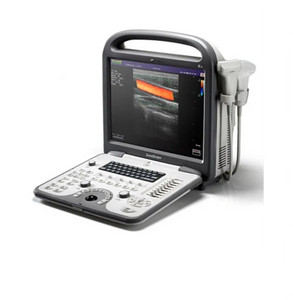 SonoScape S6
SonoScape S6 is a color Doppler system, which has innovative transducers, powerful software and a wide range of applications. It comes with complete built-in battery which provides the diagnostic services required at anytime or anywhere. This machine represents the best value in ultrasound technology available.
SonoScape S6 is used in clinical applications like cardiology, cardio-surgery, tocology, gynecology, prenatal diagnostics, thyroid gland, kidney or atrabiliary capsules, retroperitoneal space, pancreatic gland, liver etc. Contact KeeboMed Inc. if you want to buy a SonoScape S6 at affordable rates. All the machines have been tested for efficiency and quality which are displayed on our online store for sale.
SonoScape S6 comes with a variety of transducers such as Phased, Convex, Endoscopic, Bi-plane, Linear, Transrectal, Transvaginal, TEE, Intraoperative, etc. It is an excellent hand-held ultrasound machine featuring a large operating panel and functions found in larger systems. Purchase from KeeboMed Inc., so you do not have to worry about its efficiency and reliability.